Deli 101
---
Yes, we are different. So to help you understand how things work at Sixth Street Deli... read on.
1) IF YOU CALL IN YOUR ORDER - yes, you may get put on hold and no, we don't have music (yet) but hang in there, we will get to you. We have three lines and we will get to you as fast as we can. And you can always fax in a big order. Just please call to verify we got it...
When you come to pick up your order - grab any extra chips or drinks YOU DID NOT ORDER - if you ordered them we will have them with your order. Go directly to the cash register and get in line. Yes we know there may be a line but it won't take long.
If you call or fax in a delivery order, please know we do the very best we can to get it to you as fast as possible...the earlier you get it to us the better. During peek hours orders can take 45 minutes to an hour so plan accordingly.
2) WHEN YOU COME IN TO ORDER - go to the center of the deli case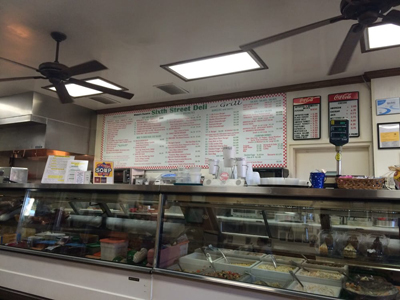 right there past the salads-in front of the menu. Our specials menus are to the left on the counter. Also the soups of the day. Don't be afraid to as questions, we're here to help. And if you don't see what you want, just ask. If you've ordered to go, grab your chips and drinks from the cooler and we'll call you to the registar when your order is ready.
If you're dining in, just take your number, grab any orderd chips or drinks from the cooler and have a seat in the dining room. We'll bring your food and fountain drinks out and we call your number to find you so keep it handy. If you know you're going to sit outside let us know when you order. If you change your mind and sit outside, no worries...we'll find you.
When we bring your food and drink, we'll drop your bill on your table. If you need a refill, just bring your drink to the register area. If there is a line just come to the counter anywhere...we'll take care of you. If you have leftovers just bring them straight to the counter and we'll wrap everything up for you. You pay on your way out, so you can add to your order if you need to. IF YOU HAVE A BIG GROUP Don't worry if you need more seats, make yourself at home. You are welcome to pull tables together. Or ask us if you need help. We can open the upstairs door for handicaped access if needed, but please note - there really is an alarm on that door so please ask for help. Accredited service dogs are welcome in the dining rooms, but please all other animals, no matter how small, cute, cuddly and emotionally enjoyable need to be left outside on the patio where they are always welcome. Let us know if your pooch needs a drink.
"Laugher is brightest in the place where the food is."

Irish Proverb